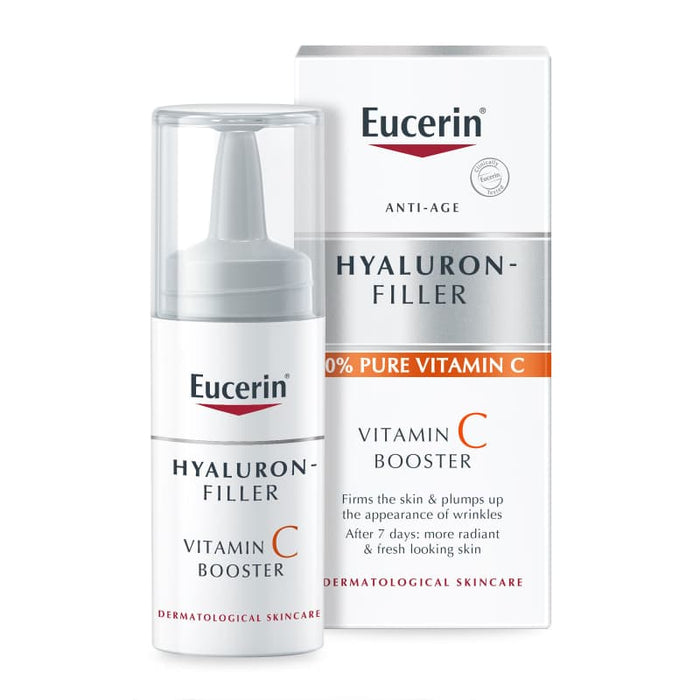 Eucerin Hyaluron- Filler Vitamin C Booster 8 ml
Hyaluron Filler Vitamin C Booster -8ML is a care that strengthens the skin and fills wrinkles. After 7 days, the skin is smoother and the complexion is fresh.
Sunscreen should be used during application and one week after last use. This bottle allows a cure of 7 days. Tested under dermatological control.
Key Components
10% pure Vitamin C: an effective antioxidant that stimulates the production of collagen in the cells of the skin,
Hyaluronic acid of low molecular weight which penetrates into the epidermal layers of the skin where wrinkles form
Licochalcone A: another powerful antioxidant that also enhances cellular antioxidant defense of the skin.
Ascorbic acid which can increase the sensitivity of the skin to the sun and especially the possibility of a sunburn.
Indication
Anti-aging care
How to use
Mix and shake before first use. Apply in the morning or evening before care or in combination with the daily care.
Avoid contact with eyes. A slight tingling sensation can be felt.
Discontinue use in case of irritation.
Benefits
Stimulates the production of collagen in the cells of the skin
Enhances cellular antioxidant defense of the skin