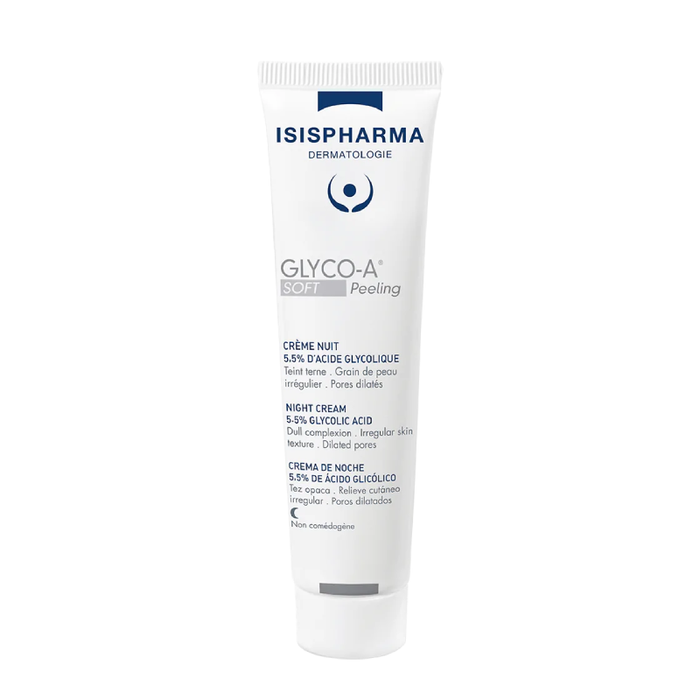 Isispharma Glyco-A 5.5% Soft Peeling Night Cream 30ml
GLYCO-A Soft Peeling night cream offers everyone the benefits of a superficial peel at home, with a low glycolic acid concentration of 5.5% for a brighter complexion and smoother skin texture.
The pH of GLYCO-A SOFT Peeling is 3.8, for a perfect balance between skin tolerance and effectiveness of the treatment.
Application
In the evening only, 2 to 3 times a week and after thorough cleansing, apply a thin layer to the entire face and massage gently until the product has fully penetrated.
GLYCO-A SOFT Peeling night cream is a real treatment that acts during the night and does not need to be rinsed off. However, if the skin is uncomfortable, we recommend that you keep your peel on the skin for at least 30 minutes to benefit from the full effectiveness of the AHAs.
The action of AHAs on the skin may cause a slight tingling sensation. This is a normal reaction that never lasts long, only a few minutes. If the tingling persists for more than ten minutes, adjust the concentration to your sensitivity.
Dermatologically tested.
Avoid the eye area. In case of contact, rinse thoroughly with clean water.
• It is essential to use high-factor sun protection for the duration of the treatment and for one week after discontinuing it.
• Avoid applying a surface peel during the summer
• Do not apply on sensitive or sensitized skin. Avoid multiple types of exfoliation (chemical and mechanical).
• Do not apply a peel within 72 hours after hair removal.
• 24 hours before the very first application, do an allergy test with your peel, just inside the elbow.
• Do not use if you are pregnant. Do not apply to children under 12 years of age.
• Some drug treatments are not compatible with the peel. Ask your doctor for advice.
Ingredients
AQUA (WATER), CETYL ALCOHOL, GLYCOLIC ACID, PARAFFINUM LIQUIDUM (MINERAL OIL), CETETH-20, AMMONIA, STEARETH-20, PALMITIC ACID, STEARIC ACID, PARFUM (FRAGRANCE)