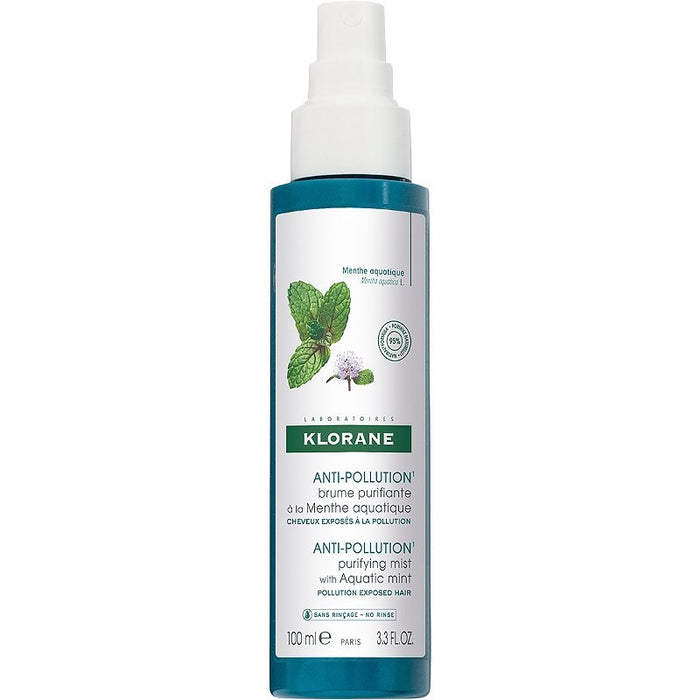 Klorane Aquatic Mint Detox Spray-100ML
Purifying Mist With Aquatic Mint-100ML is a refreshing mist neutralizes hair & scalp odors accumulated throughout the day while detoxifying and protecting the hair from pollution.
Key Components
Aquatic Mint: detoxifies, purifies and protects against pollution. Provides antioxidant protection.
Natural Deodorizing Agent (Zinc Ricinoleate): captures and absorbs bad odors.
Indication
Purifying mist for pollution exposed hair.




How to use
Spray all over dry or damp hair and scalp. Do not rinse. Ideal for use post workout, in the city, after exposure to strong food odors and smoke or a long commute. Use as often as needed.




Benefits
Refreshing hair mist purifies and neutralizes odors, 
Detoxifies and protects scalp from pollution,
Provides an immediate cooling sensation
Ideal use: post workout, in the city/commuting, eliminating strong food and smoke odors,
Does not weigh hair down. Tames frizz.
Notes of herbal Aquatic mint, Lemon and Tea.