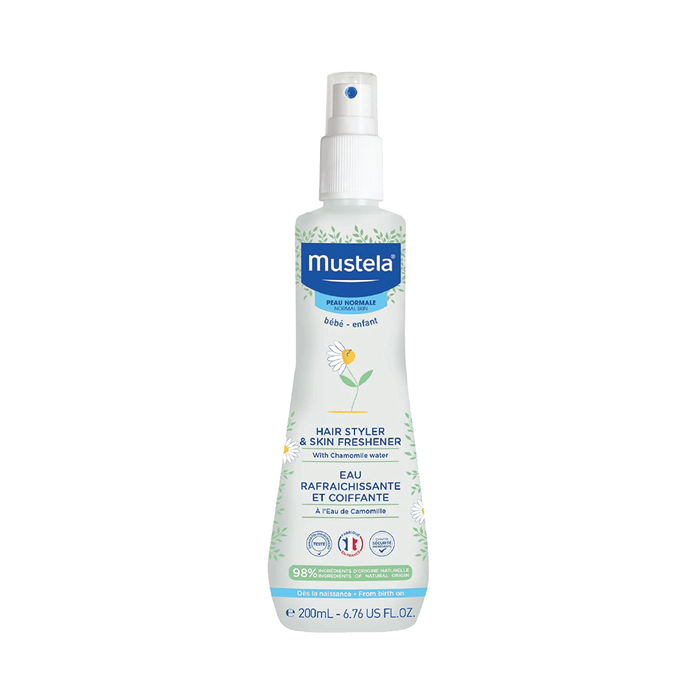 Mustela Baby Skin Freshener Spray-200ML
Mustela Baby Skin Freshener Spray-200ML is a refreshing and styling water which may be used from the first days of life to complete the baby's daily hygiene routine. Meant to be used as the last step of the baby's skincare, this refreshing spray rapidly removes all residues of cleansing milk from the skin while stimulating the child's developing senses with a delicate and gentle fragrance. The product is available in a comfortable spray dispenser, making it even easier to refresh the baby's skin throughout the day.
Key Components
Avocado perseose, a patented natural ingredient, protects the skin barrier, moisturizes the skin, and preserves its cellular richness.
Indication  
Daily hygiene, sensitivity. All skin types, including sensitive.
How To Use  
Apply Mustela Baby Skin Freshener Spray daily to the baby's skin and hair, during the daily hygiene routine.
Benefits  
Refreshes and delicately perfumes the baby and child's skin, leaves the skin feeling soft, helps style the baby's delicate hair, hypoallergenic formula, 97% ingredients of natural origin.