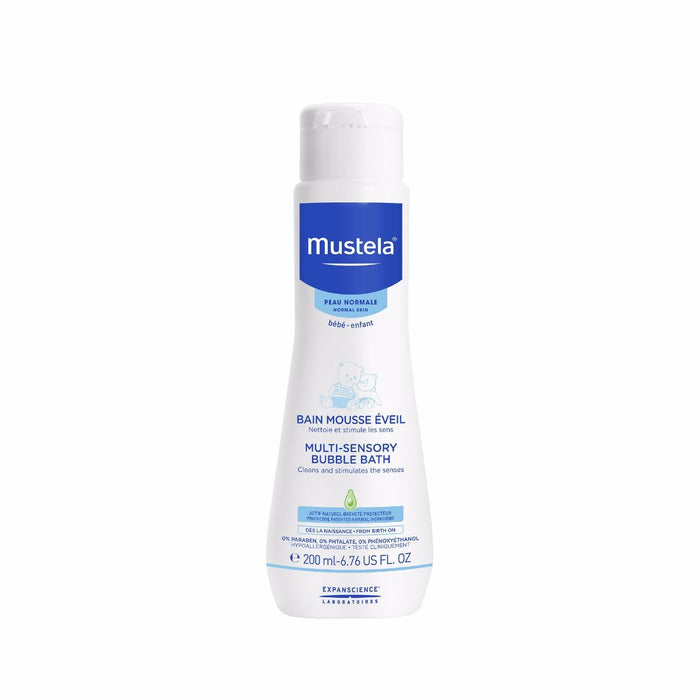 Mustela Multi-Sensory Bubble Bath -200ML
Multi-Sensory Bubble Bath Foaming bubbles make bath time therapeutic and fun and while protecting and hydrating skin.
Key Component
Avocado perseose is a patented, biomimetic natural active ingredient that hydrates and helps the development of the baby's fragile and immature skin barrier;
Natural cornflower extract softens the skin;
Marine trace elements help maintain the skin's water balance;
Mild surfactants gently cleanse while preserving the skin from dryness.
How to use
Pour a small quantity of Multi-Sensory Bubble Bath directly into your baby's bathwater.
Gently rinse your baby after use.
Caution: 
Use only as directed. Excessive use or prolonged exposure may cause skin or urinary tract irritation.
Discontinue use if rash, redness, or itching occurs. Consult your physician if irritation persists.
Keep out of reach of children.
Benefits
Make bath time therapeutic and fun for your little one with Mustela's Multi-Sensory Bubble Bath. Your baby will love splashing in the foaming bubbles while getting clean.
Our biodegradable baby bubble bath formula safely and gently cleanses your baby's skin.
Composed of 88% plant-based ingredients including marine extracts to help maintain the skin's water balance, cornflower extract to soften skin, and our signature Avocado Perseose to help protect and hydrate.
Paraben, Phthalate, and Phenoxyethanol free.
Hypoallergenic: specially formulated to minimize the risk of allergic reactions.
Tested under dermatological and pediatric control.