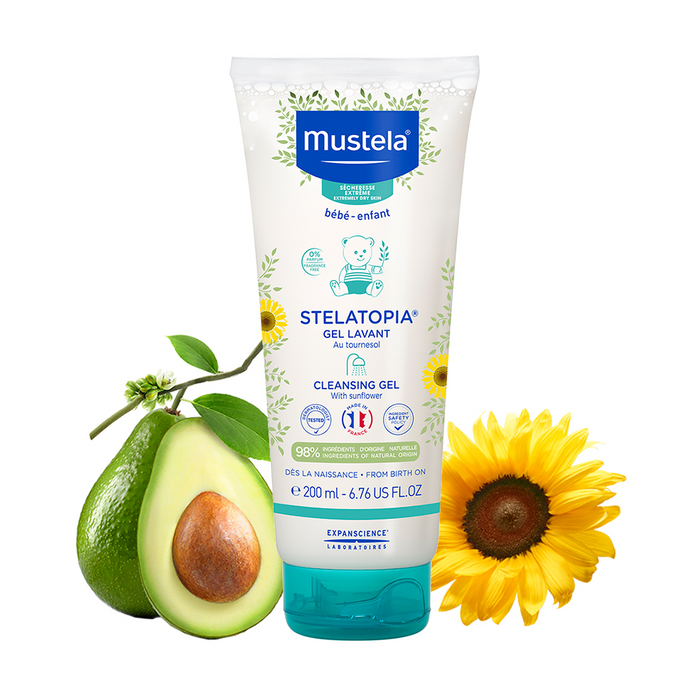 Mustela Stelatopia Cleansing gel -200ML
Mustela Stelatopia Cleansing gel -200ML is specially designed to provide instant relief to babies and newborns* with extremely dry skin. It compensates for the drying effect of water and soothes skin irritations. Its formula countains 98% of natural origin ingredients and its key active ingredient comes from organic sunflowers, with proven soothing properties.
Key Components
Organic sunflower oleodistillate, patented active ingredient, soothes and helps repair the skin's protective film;
Perséose Avocat®, patented natural active ingredient which protects the cutaneous barrier, moisturizes as well as preserves the skin cell's richness;
A gentle surfactant that gently cleanses, thus preventing skin's dryness;
Glycerine of natural origin both moisturizes and protects the skin.
How to use
From birth on*, apply to wet skin.
Rinse thoroughly and gently pat dry without rubbing.
Shower and bath use.
Face and body.
Benefits
Gently cleanses and leaves a protective film on the skin.
Soothes sensations of discomfort and tightness.
Mitigates the drying effects of bathing.
To reduce feelings of discomfort.
Leaves the skin soft, supple, and comfortable