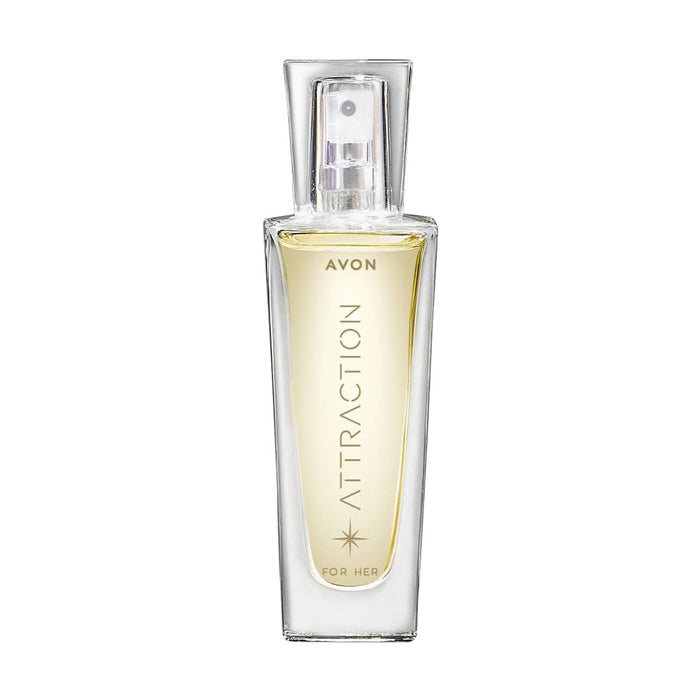 Avon Attraction for Her Eau de Parfum Travel Size 30ml
Attraction Eau de Parfum for Her is an extraordinary fragrance for ladies conscious of their attractiveness.
Create an undeniable attraction with Attraction for Her, a head-turning woody, fruity perfume. The first Avon fragrance designed to spark attraction and create a magnetic pull between you and the person you desire. A sexy and irresistible scent with tempting blackberry, mysterious orchid and vanilla amber. Featuring the Magnetic Musk Accord, created to draw you closer together with a sensual energy that leaves an addictive long-lasting trail. Feel the allure of this long-lasting, magnetic scent for up to 8 hours.
Scent type: Woody and fruity blend with a powerful Magnetic Musk Accord.
Key notes:
Top: Blackberries and pink pepper.
Middle: Intriguing jasmine, black orchid, and classical musk.
Base: Amber, Madagascar vanilla, praline, and labdanum.
What do mature blackberries, entrancing black orchid, and praline aroma have in common? It is Avon's Attraction Eau de Parfum, the fragrance with seductive power. Wear it in the evening and let it enfold you with a delightful aura of oriental floral accords, spicy scent of freshly ground pepper, and innocently sweet vanilla.
Size: 30ml.
How to use:
Spritz Attraction for Her Eau de Parfum Travel Size 30ml on pulse points.