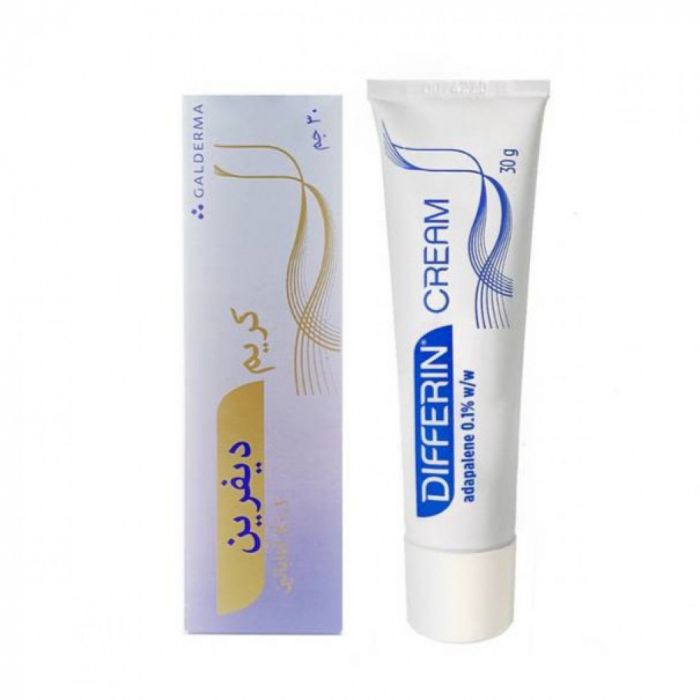 Differin® contains Adapalene, which is a topical retinoid and a form of vitamin A. Topical Adapalene can be applied to the skin to treat acne. 
Differin® works in 3 main ways:
Continually renewing skin cells to help prevent pores from clogging and prevent the formation of acne.
Acting as an anti-inflammatory agent to reduce redness and swelling at the source.
Restoring skin tone and texture by clearing acne.
Don't think of Differin® as a spot treatment only to be used when acne rears its ugly head. In fact, if used daily, Differin® stops new acne from forming, resulting in improved skin tone and texture.
Dosage and how to use​
Wash the skin with cleanser, then rinse and pat dry.
Wash your hands before and after applying the medication.
Apply a thin layer of medication to cover the affected areas according to your doctor's instructions.
If you are using this preparation for the first time, start with applying on a small area of affected part and increase gradually to other areas over the following week if there is no skin irritation. Alternatively, start by using every other day for the first 2 weeks, then apply daily.
Avoid applying the medication on broken skin or too near to your eyes, mouth and nose as it may cause irritation. 
Flush the area thoroughly with water if the medication accidentally gets into your eyes, mouth, and nose.
What to do if I missed a dose?
If you forget to apply a dose of this medication, apply it as soon as you remember. Skip the dose if it is time for the next dose. Apply your next dose at the usual time. Do not apply two doses to make up for the missed dose.
What are the possible side effects of Differin®?​
Initially, you may experience peeling of the skin, with redness and even a mild stinging sensation. If you experience bad irritation, apply it less frequently.
Sometimes, your acne may seem to get worse during the first two to three weeks. This is a normal reaction called purging. If you continue using this medicine, you will notice improvement. The best results may be achieved after four to seven weeks of treatment. In a clinical study, patients reported up to an 87% decrease in acne after 12 weeks of use.
If any of the side effects do not go away or are serious, please see your doctor.
How do I cope with Differin® purge?
In most cases, all that must be done to escape the purge is to endure it for a week or so. Once all the blockages lurking beneath the surface have been cleared, the skin can begin to truly get better, and Differin® shines in this regard - users often continue to see improvement for many months after beginning treatment.
Should I stop using Differin® once my acne clears up?
For best results, it's important to continue using Differin® even after skin looks clearer to help prevent future breakouts.
With continued use, Differin® will continue to clear redness and inflammations caused by acne; prevent blackheads and clogged pores, and, as a result, restore the skin's texture and tone.
What is the difference between Differin® Cream and Differin® Gel?
Differin® is produced in two formulations: a gel, and a cream.
Differin® gel is transparent and quite dense - when applied, it will be absorbed relatively quickly.
Differin® cream is white and slightly thicker - it has moisturizing properties that will help if the affected area is uncomfortably dry. This is useful as most one of the most common sides effects of Differin® is dry/ peeling skin.