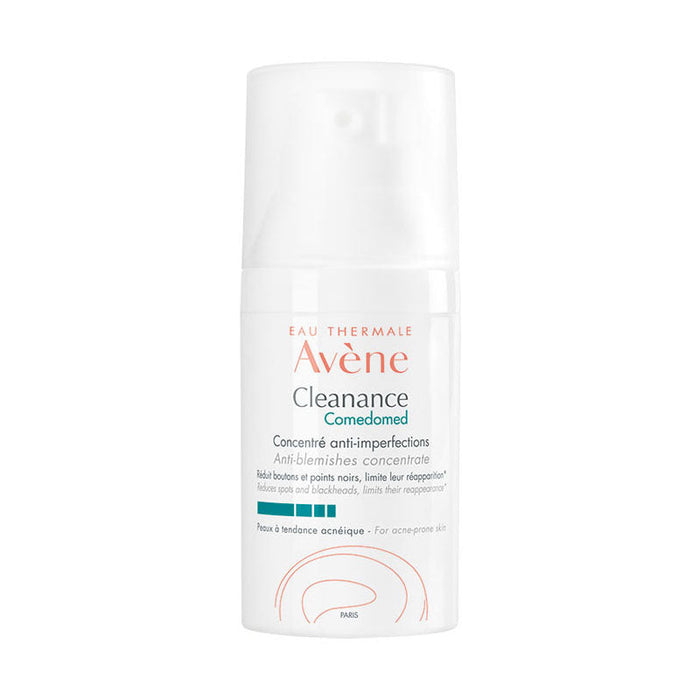 Avène CLEANANCE COMEDOMED 30ML
Cleanance Comedomed is particularly indicated for acne-prone skin with spots and blackheads. Teenagers from 12 years old, adults Cleanance Comedomed offers a light texture, quickly absorbed as soon as it is applied, leaving the skin refreshed and mat. Pleasant and practical, with its pump bottle, just one press provides the right dose of product. Can be used alone or in combination with a local medicinal treatment (excluding oral isotretinoin). Apply to entire face twice a day. Good make-up base.
Application
    Cleanse your skin with Cleanance Cleansing gel
    Spray a fine mist of Avène Thermal Spring Water
    Apply Cleanance Comedomed morning and evening to entire face.
    In case of exposure to sun, apply CLEANANCE SUNSCREEN SPF 50+ to face and neck.
Ingredients
Consumers are advised always to check the product ingredients before purchasing. AVENE THERMAL SPRING WATER (AVENE AQUA). ISOPROPYL ALCOHOL. PEG-6. GLYCERIN. SILYBUM MARIANUM FRUIT EXTRACT. SILICA. POLYACRYLATE-13. POLYISOBUTENE. POLYSORBATE 20. SORBITAN ISOSTEARATE. WATER (AQUA).
This anti-blemishes concentrate helps eliminate spots and blackheads and limits the appearance of new blemishes. The skin is mattified throughout the day and pores are lightened.
Avène Cleanance Comedomed Anti-Blemishes Concentrate 30ml is a care indicated to favor the elimination of spots, black spots and limite the appearance of new imperfections.

This new generation care durably improves the skin quality. Imperfection are significally reduced, the skin is matified during the day and pores are tightened.

Its formula is highly concentrated in actives: - active Comedoclastin with patented properties, regulates the hyperproduction of sebum, - Avene Thermal Water gives back all the soothing and anti-irritating properties.

It will become the essential daily care to limit the appearance of new imperfections, to normalize hyperproduction of sebum and reduice the brilliance.

This light fluid with non oily finish is rapidly absorbed.
Non comedogenic.