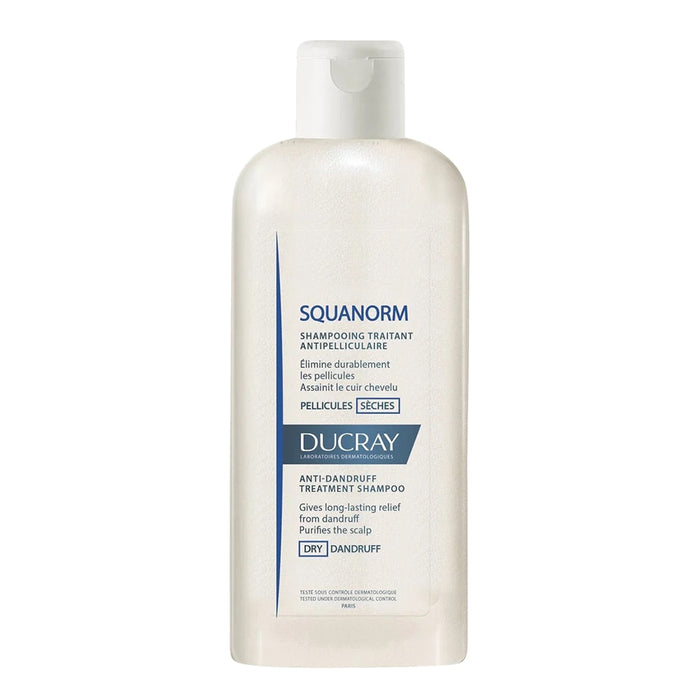 Ducray Squanorm Anti-Dandruff Shampoo Dry Scalp 200 ml
Lastingly eliminates dry non-adherent dandruff and purifies the scalp.

This shampoo provides rapid, long-lasting action thanks to specific anti-dandruff active ingredients. Its creamy texture makes it pleasant to apply.

Results Eliminates dandruff: 94%* Moisturizes the scalp: 100%* Relieves scalp discomfort: 100%* * Study conducted on 31 subjects with dry dandruff. Results expressed in % of satisfaction, from the 1st application.
Application
Apply to a damp scalp. Rinse. Reapply and leave on for 3 minutes. Rinse thoroughly. Use twice a week for 6 weeks . Avoid contact with the eyes. Starting 18 years old.
Ingredients
• Guanidine glycolate (patented active) • Pyrithione zinc • Glycerin Detailed formula (INCI): WATER (AQUA), SODIUM LAURETH SULFATE, GLYCERIN, PEG-7 GLYCERYL COCOATE, DISTEARYL PHTHALIC ACID AMIDE, POLYSORBATE 20, COCO-GLUCOSIDE, LAURYL BETAINE, CETEARETH-60 MYRISTYL GLYCOL, ETHYLHEXYLGLYCERIN, FRAGRANCE (PARFUM), GLYCOLIC ACID, GUANIDINE CARBONATE, POLYQUATERNIUM-10, POLYQUATERNIUM-22, SODIUM CHLORIDE, SODIUM HYDROXIDE, SODIUM POLYNAPHTHALENESULFONATE, TOCOPHEROL, ZINC PYRITHIONE