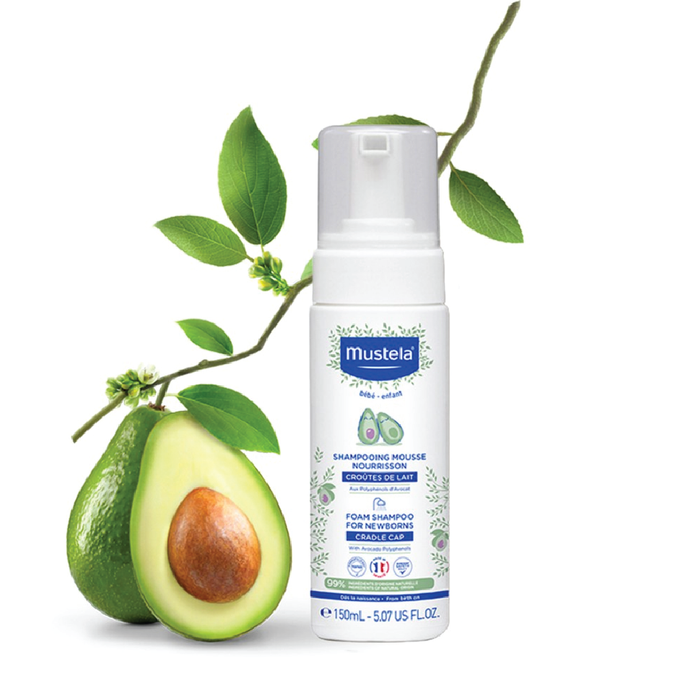 Mustela Foam Shampoo For Newborns-150 ML
Ultra-gentle foaming baby shampoo is formulated to cleanse baby hair, scalp, and to rinse away flakes associated with cradle cap.
Key Components
Avocado Polyphenols are patented natural ingredients that not only soften the scalp but also keep the hair healthy;
A Patented blend of rebalancing ingredients helps to soothe the scalp all the while keeping it clean;
Mild surfactants gently cleanse to prevent a dry scalp.
How to use
Wet your baby's hair with warm water.
Hold the Mustela Foam Shampoo For Newborns bottle vertically and press the pump to dispense the desired amount of shampoo.
Apply to wet hair and gently massage your baby's scalp.
Leave the shampoo on for 1 to 2 minutes.
Rinse carefully.
Dry your baby's hair very gently.
Benefits
Mustela Foam Shampoo For Newborns is specially formulated to cleanse your baby's hair and scalp while softening and rinsing away flakes associated with the cradle cap.
Our tear-free formula and pump dispenser guarantee easy and comfortable application.
Our 99% plant-based biodegradable formula contains BHA and Salicylic Acid to gently exfoliate and rinse away cradle cap flakes, which are common among newborns.
Paraben, Phthalate, and Phenoxyethanol free.
Hypoallergenic: specially formulated to minimize the risk of allergic reactions.
Tested under pediatric and dermatological control.
Avocado Perseose: A patented natural ingredient specifically designed, helps protect your baby's scalp 
Climbazole: To visibly reduce cradle cap recurrences.