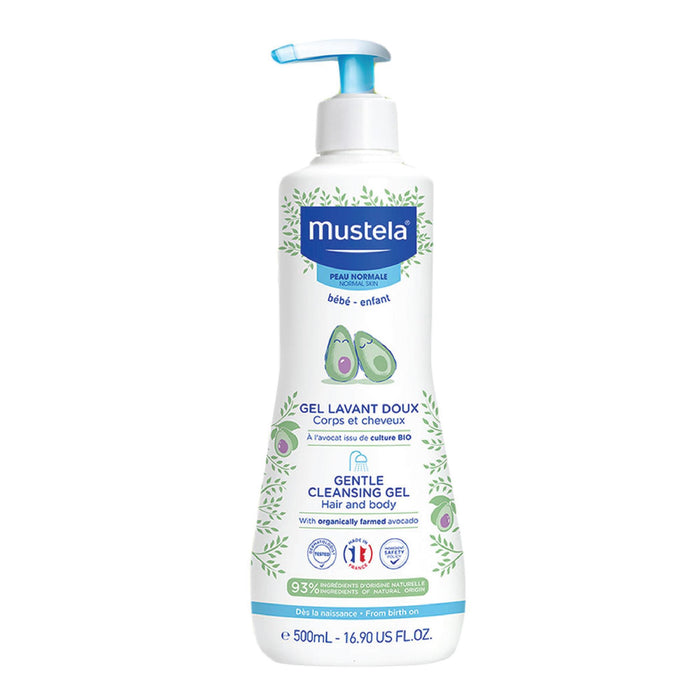 Mustela Gentle Cleansing Gel -500ML
Mustela Gentle Cleansing Gel 500 ML: Safely and effectively clean and soothe your baby's hair and skin while keeping the skin's natural oils intact.
Key Components
Avocado perseose is a patented, biomimetic natural active ingredient that hydrates and helps the development of the baby's fragile and immature skin barrier;
Vitamin B5 soothes the bay's delicate skin;
Mild surfactants gently cleanse to protect the skin from dryness.
How to use
Pump a few drops of Gentle Cleansing Gel in your hand and work into a lather.
Gently wash your baby's body and scalp.
Rinse carefully.
Dry your baby gently (without rubbing), taking particular care of the diaper area and skin folds (thighs, armpits, neck, etc..
Benefits
Mustela's best-selling Gentle Cleansing Gel safely and effectively cleans and soothes your baby's delicate hair and skin.

This biodegradable formula is fortified with Vitamin B5 and cleans thoroughly without stripping the skin and scalp of natural oils.
Composed of 90% plant-based ingredients including Avocado Perseose, a patented natural ingredient specifically designed to help protect and hydrate dry skin.
Paraben, Phthalate and Phenoxyethanol free.
Hypoallergenic: specially formulated to minimize the risk of allergic reactions.