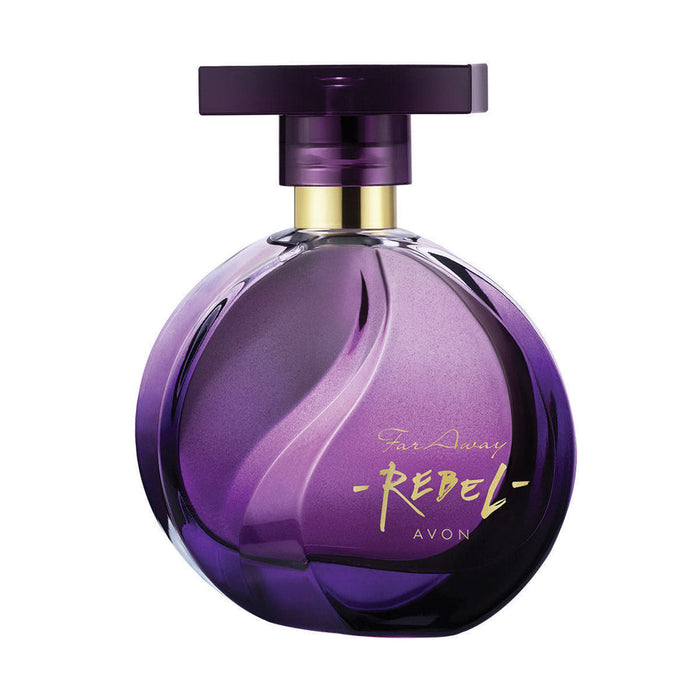 Avon Far Away Rebel Eau de Parfum
Far Away Rebel Eau de Parfum is a unique composition full of enthralling accents that the fans of lavish parties and an urban lifestyle will appreciate.
A powerful and addictive fragrance that allows you to be free to express your authentic self. Your soul is a rebel escaping with Far Away Rebel Eau de Parfum. Escape the ordinary with an unexpected star ingredient. The salty chocolate and toffee create a surprising scent that gets daringly sophisticated together with the Madagascan Vanilla and orange blossom. Show the world your rebel self with this long lasting scent.
Scent type: An unexpected but lovely blend of salty chocolate and toffee gives a unique scent.
Key notes:
    Top: Salty chocolate and toffee.
    Middle: Madagascan vanilla.
    Base: Orange blossom.
Far Away Rebel Eau de Parfum is a mouthwatering, tempting composition that perfectly complements the party look. It opens with a strong accent of the currant liqueur accompanied by a praline plum. Next, it resonates of a delicious salted caramel with sweet chocolate and slightly tart amber while still retaining the delicate floral accords of lily of the valley in its heart.
Size: 50ml.
How to use:
Spritz Far Away Rebel Eau de Parfum on pulse points. A+ Tip: Don't rub fragrance in to prevent top notes of fragance breaking down fast.