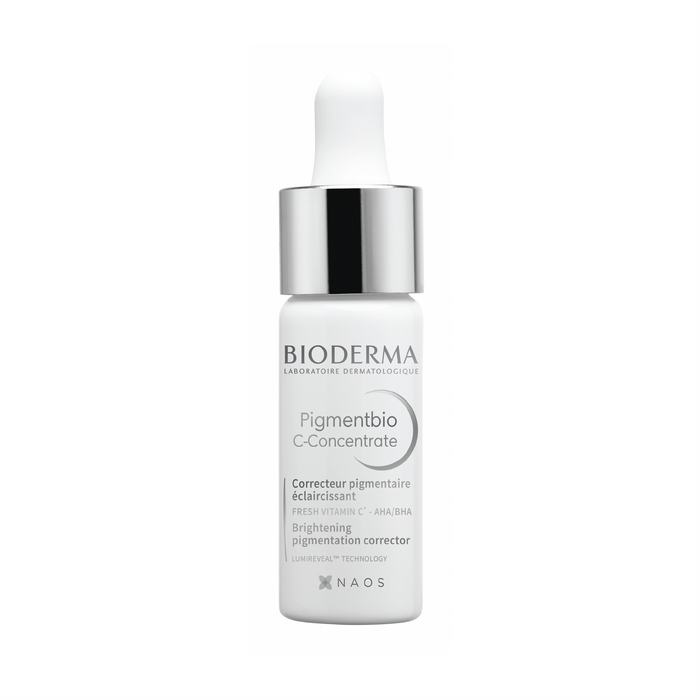 Bioderma Pigmentbio C-Concentrate 15 ML
Description
Pigmentbio C-Concentrate is supplemented by a cocktail of vitamins that are essential for the skin: vitamin C, E and PP which protect and strengthen the skin barrier.
Thanks to its high AHA/BHA (glycolic and salicylic acids) concentration, it provides a gentle, peeling-like efficacy that doesn't damage the skin or dry it out, thanks to its 8-hour hydration action.



Key Component
Vitamin C



Indication
Intense Pigmentation Correction
Sensitive Skin



How to use
STEP 1
For the first use, press firmly with both thumbs on the pack's cap until the canister is fully engaged to release vitamin C. Unscrew the white cap and check that all the vitamin C powder has been released. Screw on the dropper and shake for 10 seconds to mix the vitamin C.
STEP 2
Apply 5 drops every evening to face and neck after cleansing with Pigmentbio H2O or Pigmentbio Foaming Cream. Can be applied on its own or before Pigmentbio Night Renewer in the evening.
STEP 3
To maintain good results all year long, renew the 1 month cure every 3 months.