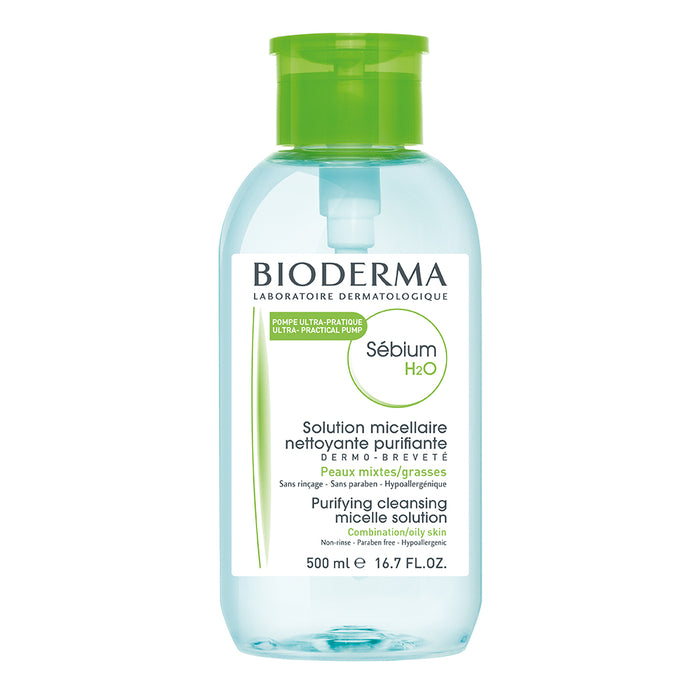 Bioderma SEBIUM H2O 500ML .
BIODERMA SEBIUM H2O purifies the epidermis and regulates sebum quality thanks to the patented sebo-correcting Fluidactiv® complex.
Key Components 
Water (aqua), Peg-6 Caprylic/capric Glycerides, Sodium Citrate , Zinc Gluconate, Copper Sulfate, Ginkgo Biloba Extract, Mannitol, Xylitol, Rhamnose, Fructooligosaccharides, Propylene Glycol, Citric Acid, Disodium Edta, Cetrimonium Bromide, Fragrance (parfum).

Fragranced formula. Non-comedogenic. Alcohol-free. No colourant.
Indication  
Micellar water for oily skin 
How To Use  
Soak a cotton pad with Sébium H2O andcleanse your face. Repeat the application until the cotton pad remains clean.
Benefits  
BIODERMA innovation, Sébium H2O gently cleanses the skin without drying it, through the micro-emulsion of impurities and excess sebum.
Enriched with purifying active ingredients, Sébium H2O cleanses the epidermis in depth and regulates secretion of sebum. The patented sebo-correcting complex, Fluidactiv®, normalises sebum quality.
Guarantees excellent cutaneous and ocular tolerance.
Non-comedogenic.
Soap-free