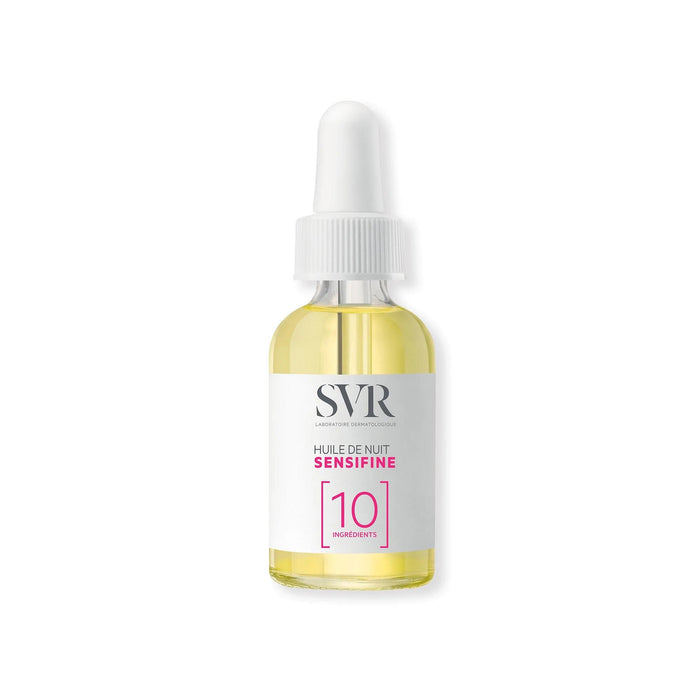 SVR Huile De Nuit Sensifine 30ML . 
SVR Huile De Nuit Sensifine 30 ML: Combining tolerance, effectiveness and pleasure, a challenge taken up by this new Sensifine night care. This minimalist oil has been formulated with only 10 ingredients, all carefully selected in the Sensifine charter and chosen to soothe, repair and intensely nourish fragile skin. With 99.9% of natural ingredients, Sensifine repairing and soothing night oil is the essential care for sensitive and poly-allergic skin. Its comforting oil texture is easy to apply, with a silky, non-greasy finish, offering a gentle moment of pleasure before bedtime.
An oil that comforts sensitive skin, but also does something for the planet with a 100% recyclable glass bottle.
Key Components:
Hemp oil
Coconut oil
Sweet almond oil
Grape seed oil
Jojoba oil
Rapeseed oil
Indication:
For sensitive and poly-allergic skin.
How to use:
In the evening, place 3-4 drops in the palm of your hand using the dosage pipette. Apply the oil to the entire face and neck, on clean, dry skin. Gently massage in and smile!