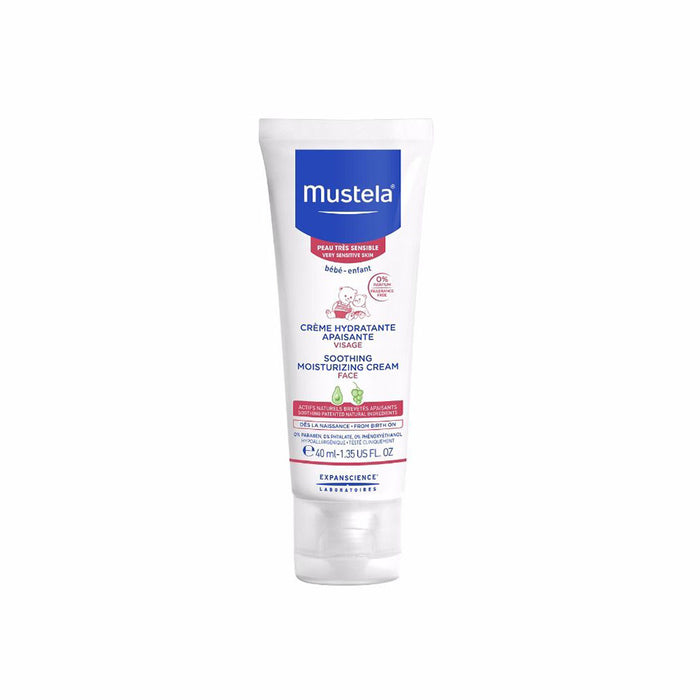 Mustela Soothing Moisturizing Face Cream-40 ML
Soothing Moisturizing Face Cream is a daily baby face cream that protects and relieves the sensitive skin on your baby's face. Our fragrance-free formula is specifically designed for babies and children with very sensitive, rashy, or reactive skin. Mustela® Soothing Moisturizing Face Cream penetrates effortlessly to deliver immediate and long-lasting moisture
Key Components
Avocado Perseose® protects the skin barrier, moisturizes and preserves the resources of epidermal cells;
Schizandra: soothes and helps reduce the symptoms of skin hypersensitivity.
How to use
Apply morning and evening on face.
Benefits
Mustela Soothing Moisturizing Face Cream is a daily baby face cream that protects and relieves the sensitive skin on your baby's face. Our fragrance-free formula is specifically designed for babies and children with very sensitive, rashy, or reactive skin. Mustela® Soothing Moisturizing Face Cream penetrates effortlessly to deliver immediate and long-lasting moisture.
Composed of 97% natural ingredients including Avocado Perseose®, a patented natural ingredient to help protect and hydrate a baby's delicate skin, and Schizandra, a berry extract that soothes tingling and tightness and improves the skin's appearance.
Use Mustela® Soothing Moisturizing Face Cream in conjunction with Mustela® Soothing Moisturizing Body Lotion for complete hydration. Paraben, Phthalate, and Phenoxyethanol free. Hypoallergenic, and specially formulated to minimize the risk of allergic reactions. Tested under dermatological and pediatric control.