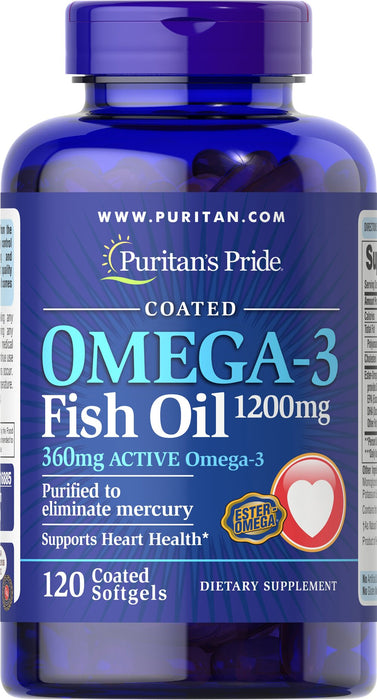 Puritan's Pride Omega-3 Fish Oil Coated 1200 mg (360 mg Active Omega-3)(120 softgels)
When choosing the right fish oil product for you, make sure to understand your potency and speak to your health care provider to see what dosage is right for you. Pay attention to the total amount of EPA and DHA omega-3s contained in your fish oil supplement. The higher concentration of DHA and EPA, the less softgels you'll need to take to get enough omega-3s.
Puritan's Pride® Coated Omega-3 Fish Oil supports heart, skin, and joint health.* These fish oil softgels are coated to minimize "fishy" aftertaste and are purified to eliminate mercury. Each softgel contains 300 mg of total omega-3s including EPA and DHA.
Guaranteed Quality.