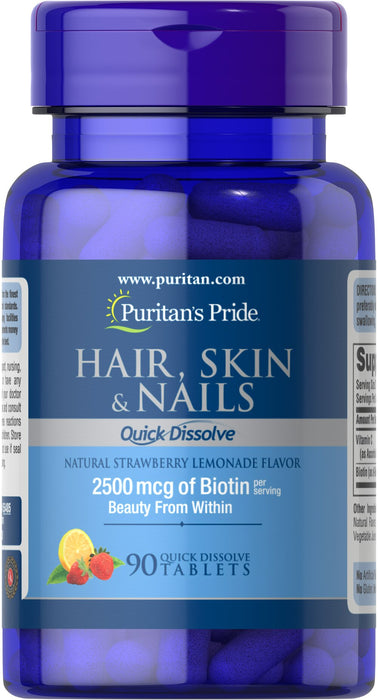 Puritan's Pride Quick Dissolve Hair Skin Nails
    Supports Skin Health*
    Supports Naturally Beautiful Hair*
    2500 mcg of Biotin per serving.
Nourish from the inside out for natural beauty. Puritan's Pride Quick Dissolve Hair, Skin & Nails formula contains 2500 mcg of Biotin per serving. Biotin is a water-soluble B vitamin that assists in energy metabolism in cells.*
This formula also contains 60 mg of Vitamin C per serving for its antioxidant properties.* Vitamin C is involved in the production of collagen, which forms the basis for vibrant skin.* The great-tasting, strawberry lemonade flavor of this quick-dissolve formula makes it a terrific choice for those who don't care for pills.